PGM 07 | Dark Side of the Chew with Andrew Nisker
Dec 26 2014
This episode I'm talking with Canadian film director Andrew Nisker of Take Action Films. Andrew's latest film is called Dark Side of the Chew, and yes, it's about gum. Gum is actually the second most common form of litter in the world, after cigarette butts, and those little black globs on the sidewalk cost cities around the world millions of dollars to clean up annually, and are a major source of pollution in our water systems. Gum has it's origins in chicle, a harmless tropical tree sap that's harvested much like maple syrup. Now, it's made of plastic and it never really biodegrades. Despite the global impact of gum chewing, it's rarely talked about, at least not that I've heard. In this episode Andrew and I talk though some of what makes gum so nasty. It's really interesting stuff, but it's really just the tip of the iceberg. You need to watch Andrew's film (www.darksideofthechew) to get the whole story! But, and this is arguably the best part of Andrew's film, it's not all doom and gloom. Personally, I don't like feeling panicked and hopeless, as happens to often when digging into environmental problems. Andrew, who used to work in comedy, uses his comedic chops to give the film a light, funloving feeling. It knocks you down but picks you right back up full of hope for our gum-loving culture. Visit www.puregreenmag.com/podcast/andrew for show notes and more information.
Download MP3
---
I sincerely hope you enjoy this episode of the PGM Podcast! Please help us spread the word by sharing the show if you enjoyed it! There's tweetable links below, and any Instagram, Facebook or other sharing is very, very appreciated! Find detailed show notes with time stamps at the bottom of the post! Thanks for listening and see you next week! Listen/Subscribe in iTunes | Stitcher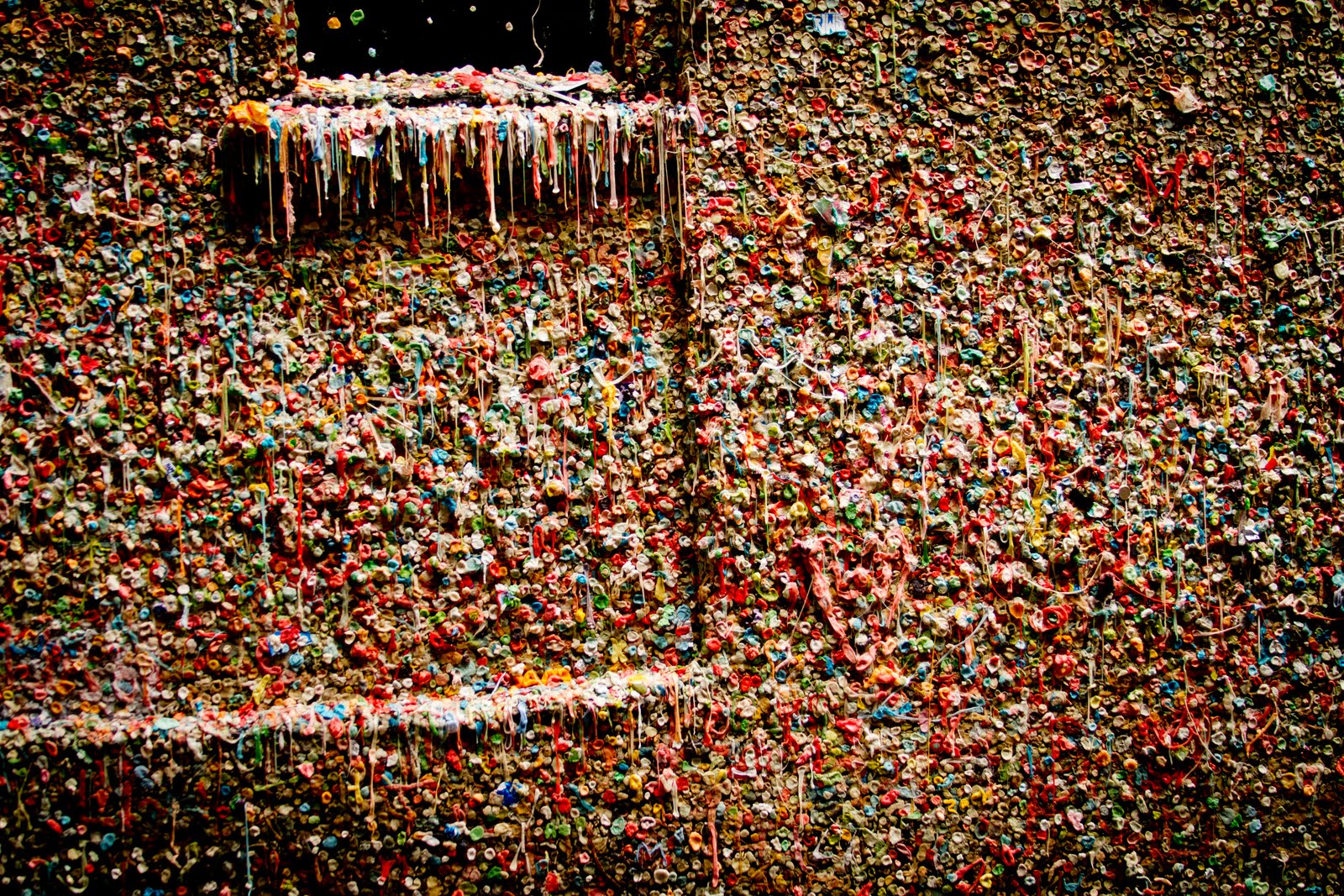 Gum litter as art? This is the gum wall at the Pike Place Market in Seattle... it's gone so far as to become a tourist attraction! Crazy!
Show Notes & Main Themes
Andrew introduces himself, including his history working for Saturday Night Live and how he started producing films focusing on environmental issues.
"I use my comedic chops to tell these tough environmental stories that nobody wants to hear."
His first film, Garbage, The Revolution Starts at Home (garbagerevolution.com, chemicalnation.com) illuminates how much waste we generate in the hopes of reducing consumption. 4:00
Chewing gum is the second most common form of litter in the world! Hence, the investigative documentary Dark Side of the Chew was born.
My films are about making people realize that dealing with these [environmental] issues can be fun, it doesn't have to be a drag, and also that you can make a difference." 8:00
The origins of gum chewing 9:40
What IS modern chewing gum? 10:45
Why do we like chewing gum so much? 14:00
"What IS this mysterious substance in my mouth??"
The environmental cost of gum: 22:00 (Ever wonder how they get gum off the sidewalk? It takes gads of water and money, like millions per city per year, to remove.)
How much gum is actually on the sidewalk? 26:00
Help measure gum pollution with Andrew's ground-breaking phone app (take action and participate - cool activity for schools): http://www.darksideofthechew.com/app/
"There are 719 million pieces of gum (2000 tonnes) stuck to the sidewalk in Toronto."
It's always important to end with hope! Andrew's thoughts on the future of gum chewing and some natural options: 30:00
"The main thing is people's behaviour. Don't litter gum, the costs are enormous."
"The main reason I chose to cover chewing gum, is because it's a great story to tell kids."
Gum was the first real item that was mass marketed - the mass marketing handbook was written by Adams & Wrigley, and the tobacco industry followed suit. 35:00
Natural Gum alternatives: