Dec
17
Pure Green Playlist | The December Playlist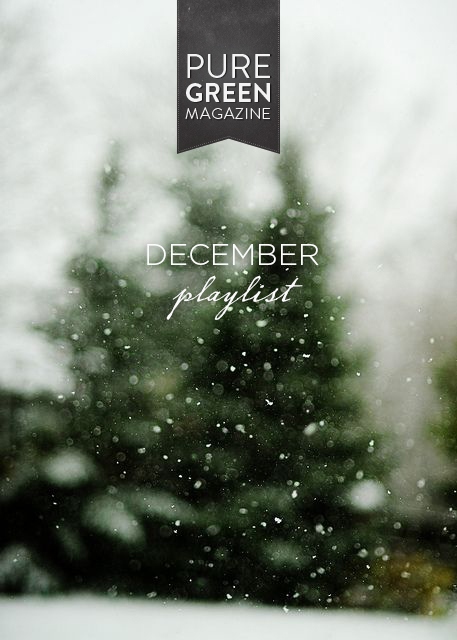 In many ways the essence of the holidays is lyrical, melodic and inspiring-- an aesthetic that most certainly resonates with that of Pure Green. . Even as the pace of the season picks up finding an opportunity to pause amidst it all lends a sweetness and simplicity to this time of year that is unparalelled to any other.
What better way to evoke that feeling than through music?! More specifically-- a Pure Green December Playlist!
This year we have created our second (!!!) playlist to capture that quality of the season that we at Pure Green love so much. No matter what you are celebrating this year we hope that it by taking the time to stop and enjoy this playlist it brings a sweet interlude into your home and heart.
Please share your favorite holiday/seasonal songs! We would be so happy to hear them!
December Playlist
Horchata // Vampire Weekend
The Winter Solstice // Sufjan Stevens
Wonderful Christmastime // The Shins
Winter Wonderland // Jason Mraz
White Winter Hymnal // Fleet Foxes
Auld Lnage Syne // Andrew Bird
I Saw Three Ships // Sufjan Stevens
The Blizzard // Camera Obscura
What Are You Doing New Years Eve? // The Head and the Heart
Bright Morning Stars // The Seeger Sisters
The Little Drummer Boy // Sufjan Stevens
Winter Prayers // Iron and Wine
Displaying Blogs 1 to 10 of 312
Dec
17

The Pure Green December Playlist: An inspiring collection of holiday and seasonal songs to enjoy!

Read More

Dec
15

Caroline Hull of the eco-friendly paper product company Caroline Creates shares her tips on reducing waste during the holiday season.

Read More

Dec
12

Talking with Amy Chaplin, the author of At Home in the Whole Food Kitchen, about whole foods and the process of writing her book.

Read More

Dec
10

An inspiring eco-themed holiday Pinterest board for Pure Green Magazine curated by Claire Raggozino of Vidya Cleanse, Laura Wright of The First Mess and Lindsey Love of Dolly and Oatmeal.

Read More

Dec
8

Oh yes, the holidays are here. It's that crazy, joyous time again, a lovely time of year, but shopping for gifts can be tricky, so we're here to take the stress and pressure away with gift subscriptions to Pure Green.

Read More

Dec
4

Talking with Jessica Murnane of One Part Plant on changing your diet and your life through plant based eating.

Read More

Dec
3

Even if you're really good at drinking water, do you give consideration to what kind of water you're drinking, besides than just how it tastes? The quality of your water is equally important as how much you drink, perhaps even more so. Recently I learned a whole lot more about water, and it fired me up a little (in a good way, like I'm going to kick my own butt and drink MORE), but I wanted to share a couple of quick takeaway tips that I learned on hydrating smarter and better.

Read More

Nov
26

Interviewing Carrie Moe, of Type A Society, on clarifing your purpose in business and in life, adapting when life throws you curveballs, the importance of being introspective and knowing yourself, how to be all in, time management and of course, motherhood.

Read More

Nov
24

An original seasonal recipe of Acorn Squash and Hazelnut Frangipane created by Cynthia Chen of Two Red Bowls for Pure Green Magazine and the #PGMInSeason project!

Read More

Nov
20

Interviewing Bobbi Bankston of the Mason Bar Company on finding your spark, feeling fulfilled, scaling a business and balancing work/family.

Read More
bringing you the latest, the unique and,
most importantly, the green.