PGM 12 | Fine Living With Laura Wright of The First Mess
Jan 28 2015
Laura Wright of The First Mess is a much-adored food blogger and a treasured member of the Pure Green family as one of our very first community leaders for #PGMinseason, along with past podcast guests Claire Ragozzino and Lindsey Love. Needless to say we are so excited to have her as the latest podcast guest today and the conversation is good. Laura speaks with candor, light-heartedness and passion about living authentically and being present both in and out of the kitchen. Her zeal for life and fine living, which is what she calls: "what you can make yourself", is potent and simply infectious! Listen to Celine's conversation with Laura as they discuss her childhood in and amongst gardens and fresh food, working in the restaurant industry, her creative process in the kitchen, and why being kind to yourself and others is the key to living well.
Download MP3
---
We sincerely hope you enjoy this episode of the PGM Podcast! Please help us spread the word by sharing the show if you enjoyed it! There's tweetable links below, and any Instagram, Facebook or other sharing is very, very appreciated! Find detailed show notes with time stamps at the bottom of the post! Thanks for listening and see you next week! Listen/Subscribe in iTunes | Stitcher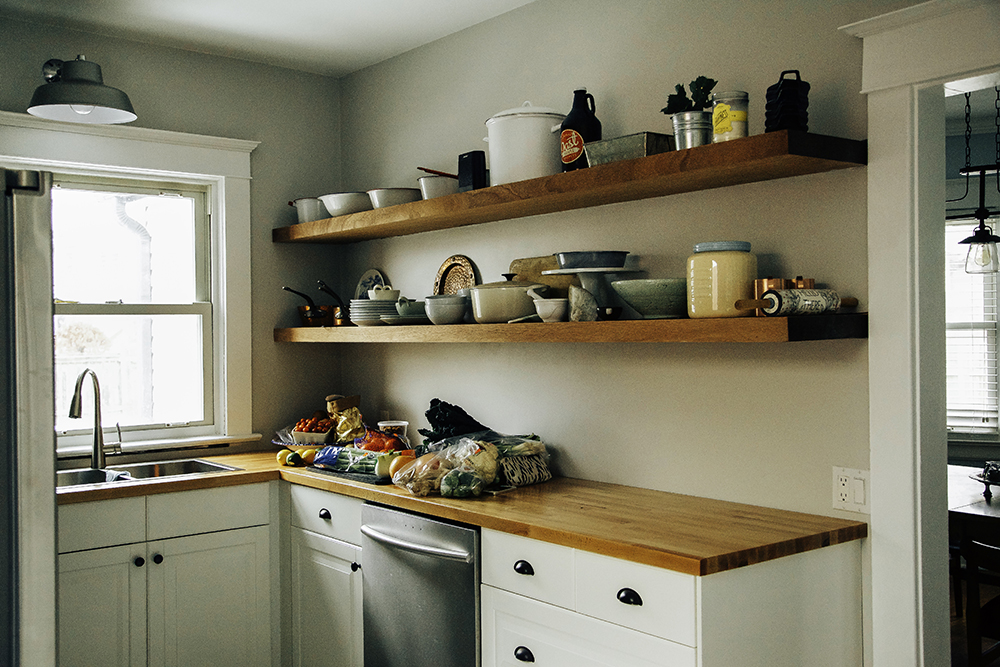 Laura took a picture of her kitchen for us so we could see where all the magic happens!
PHOTOGRAPHY by The First Mess
PODCAST PRODUCED by Ben Goldstein

Show Notes & Main Themes
How farm-to-table living was a part of Laura's childhood and growing up 3:00
The way her culinary school education and career in the food industry informed her creative cooking process and style 5:52
Laura describes her intuitive food philosophy 9:15
"It's all food and it's all good"- On not being so hard on yourself and accepting the ebb and flow of your diet 12:01
Her family's garden and how it's evolution over time has influenced her 13:12
Laura's favorite foods, fruits and vegetables 16:04
Where she finds her inspiration for recipe development 18:50
The way the restaurant culture impacts her lifestyle now 22:50
Her inspiration and how she started blogging 26:20
The story behind the name of the blog: "The First Mess" 28:20
How preeminent food writer, M.F.K. Fisher inspired Laura 30:33
"Fine living [...] is what you can make yourself and what you have the time for if you can just make something simple" 32:21
"Being connected is really true, true fine living" 33:08
Her biggest learning curve in being a successful food blogger 33:27
"Shamelessly be yourself" 34:07
The way that social media and being a part of a community built up her website 36:50
Why staying relatable, approachable, and simple is the most important thing for Laura 40:00
How she learned photography and the way it continues to evolve organically 43:18
"Celebrate, never compare" -Laura on staying authentic within the blogging community 45:18
"I remember a point in my career or my life where I really loved myself and hang on to it" - On staying positive within moments of self-doubt 45:57
Laura's way of staying healthy mentally, physically and emotionally 47:48
What's coming up next for Laura 51:38
"Listen to yourself"- On embracing the vitality Laura has found in the kitchen 53:24
"If you are trying to clean up your eating and your lifestyle, just think about what you want and what you're asking for and the action will always follow"54:35
Read Laura's blog, The First Mess
See Laura on PGM In Season + read her recipe post