May
16
Inspired Living | Linen is Best
Take a Stroll Back in Time with Linen Napkins

Today I'm introducing you to our new blog contributor Erin Boyle. She resides in NYC and writes a lovely little blog called Reading My Tea Leaves which I enjoy often—pop over and say hello! In the meantime, enjoy her new bi-weekly posts here on Pure Green!
If you live in the northeastern part of the States like I do, the end of May always brings with it the first feelings that summer's on its way. Even though the start of the season doesn't officially roll around until June, in late May the days are already long and you can catch your first whiffs of barbecue. If you're anything like me, the warmer weather also gets you dreaming up yummy cocktails to sip on as the sun goes down. I'm a sucker for herb-infused concoctions poured over lots of ice.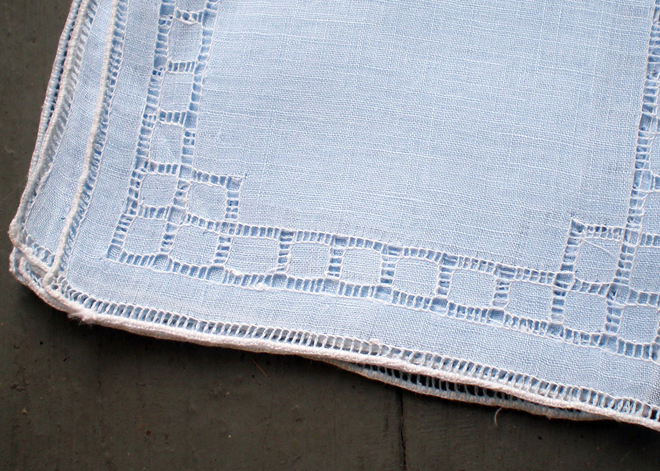 Here's the catch. Chances are that if you're sipping on icy cocktails you'll need a napkin to soak up those beads of condensation on the side of your Tom Collins. Summertime get-togethers usually involve a stack of colorful paper cocktail napkins to do the job but sadly, most of those are produced in factories that use harsh dyes and paper made from virgin forests. I say we take a stroll back in time and bring back the original cocktail napkin--those square and rectangular cloths trimmed with tiny flowers and roosters and the like. Vintage shops of both the online and brick-and-mortar variety often have them in abundance and they're typically fairly reasonably priced. They'll require a bit more work than your average square of folded neon paper, but that little bit of extra effort kind of comes along with being ecologically mindful. And, just imagine how fancy you'll feel clutching the stem of your dewy cocktail glass with a sweet little linen number? Mix and match the designs and guests will be able to keep track of their own. I call dibs on that sweet Georgia peach.
Images: blue napkins, photo by Linens and Things; peach napkins, photo by Suz in Colo
ABOUT THE AUTHOR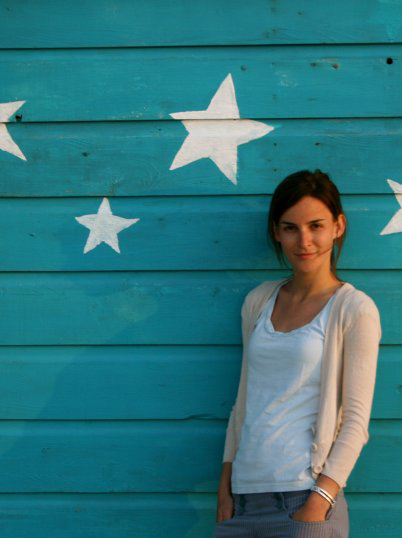 Erin Boyle is a freelance writer and photographer based in Brooklyn, New York. She writes the lifestyle blog, Reading My Tea Leaves, where she tells sometimes-stories with an emphasis on sustainability, simplicity, and adventures around the neighborhood.

Comments
Thank for the comments everyone! I'm pleased that so many enjoyed Erin's first post on Pure Green!
May 24, 2012 | Celine
LOVE.
May 17, 2012 | Linda
Great post! And such a good idea!
May 16, 2012 | Daniella
Conjures up feelings of warm sunshine and romance. I'm thinking Jane Austen. Swoon.
May 16, 2012 | Carrie
bringing you the latest, the unique and,
most importantly, the green.