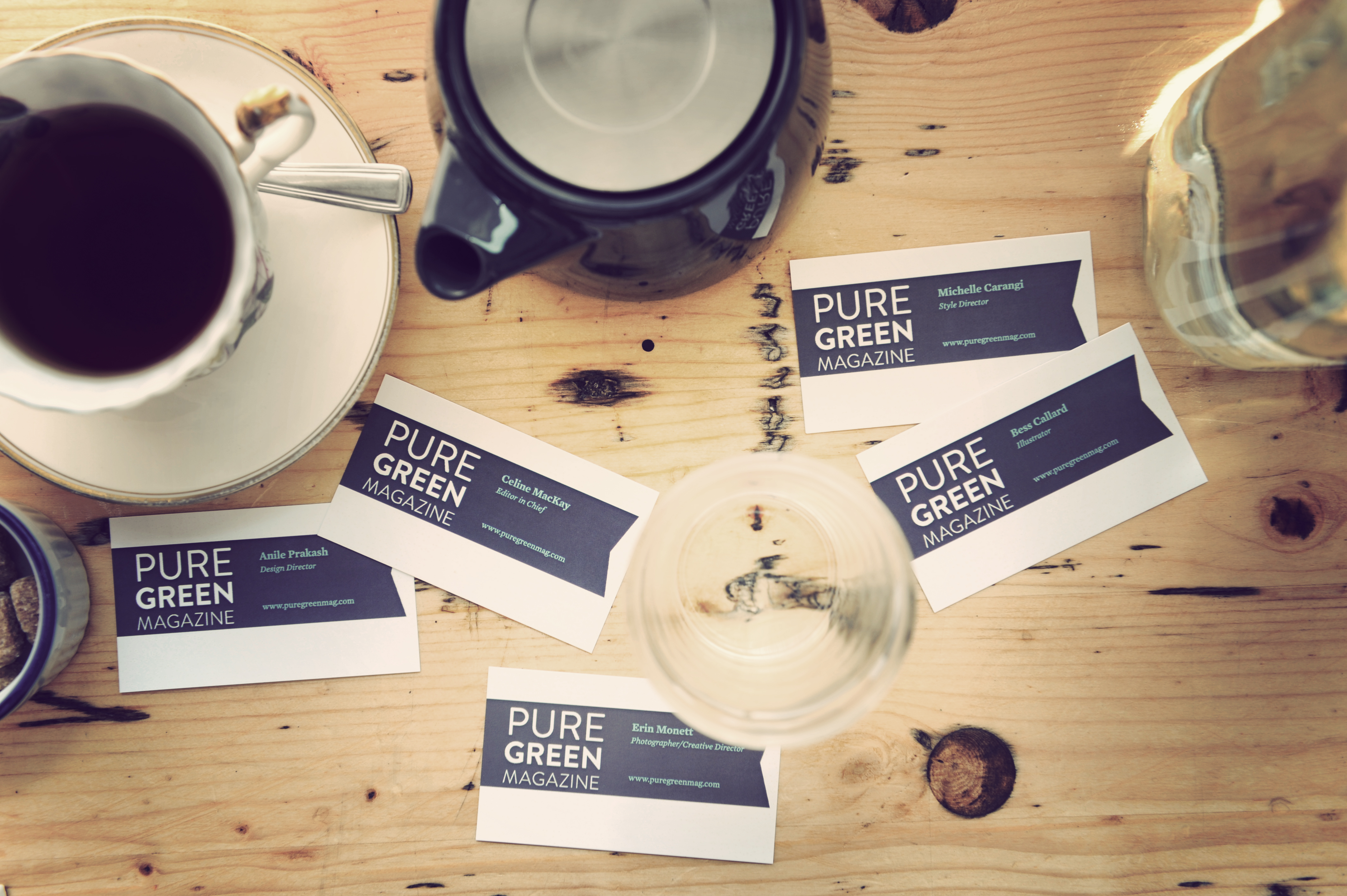 Pure Green Magazine is an independent print publication for a stylish green lifestyle, introducing our readers' to the diversity in the green design and lifestyle market. The magazine features eco style picks, innovative products and ideas, DIY projects, green home tours, eco travel destinations, organic recipes and more. The magazine has, and will continue to have, a strong undercurrent of handmade culture; it supports small businesses and features green designers from around the world. We are very passionate in our views on green living, and don't for one second think that living green means sacrificing style.
Pure Green is brought to you by a dedicated team of professionals, lead by Founder and Editor-in-Chief, Celine MacKay. Celine is also a partner in Sustain, a business that specializes in products for building, decorating and living green.
Categories:
Celine MacKay

Founder | Editor in Chief




Pure Green Magazine was created out of Celine's love for green design and her firm belief that eco interiors can be every bit as stylish. "I enjoy the challenge of sourcing vintage pieces, local organic produce, green building products or upcycling unwanted pieces. I have unbelievable respect for nature and as a result feel very passionately about preserving it, and I'm very proud of the lifestyle my family and I have created. Thank you for reading Pure Green Magazine and sharing that passion with me!"

Jonathan MacKay

Food Editor




"Those who doubt one person can make a difference have never spent a night in a tent with a mosquito." -Unknown

Erin Monett

Photographer




"Living green boils down to respect. Respect for one's health and quality of life, and respect for all the Earth and creation."

Michelle Carangi

Style Director




"I believe that living green is acknowledging every single choice, big or small, that you make on a daily basis that will undoubtedly improve our environment."

Anile Prakash

Design Director




"To me, living green means making the effort (within your means) to be respectful of what you're taking and of what you're giving back - whether it's with food, products, or lifestyle."

Bess Callard

Illustrator




"To me, living green means respecting and loving your environment. At home we take small steps to do what we can; recycling, hanging laundry outside in the summer, making green choices at the market, cleaning with eco-friendly products, etc... "

Erica Midkiff

Copy Editor




"Living green means remaining conscious of what is happening in the world around us, and taking what steps (small and large) we can take to preserve the resources we have."

Charles Nock

Columnist




Under Construction

Jesse & Melanie Senko

Columnists




Under Construction

Erin Boyle

Blog Contributor




Erin Boyle is a freelance writer and photographer based in Brooklyn, New York. She writes the lifestyle blog, Reading My Tea Leaves, where she tells sometimes-stories with an emphasis on sustainability, simplicity, and adventures around the neighborhood.