Dec
21
Inspired Living | Grateful Guest Gift Guide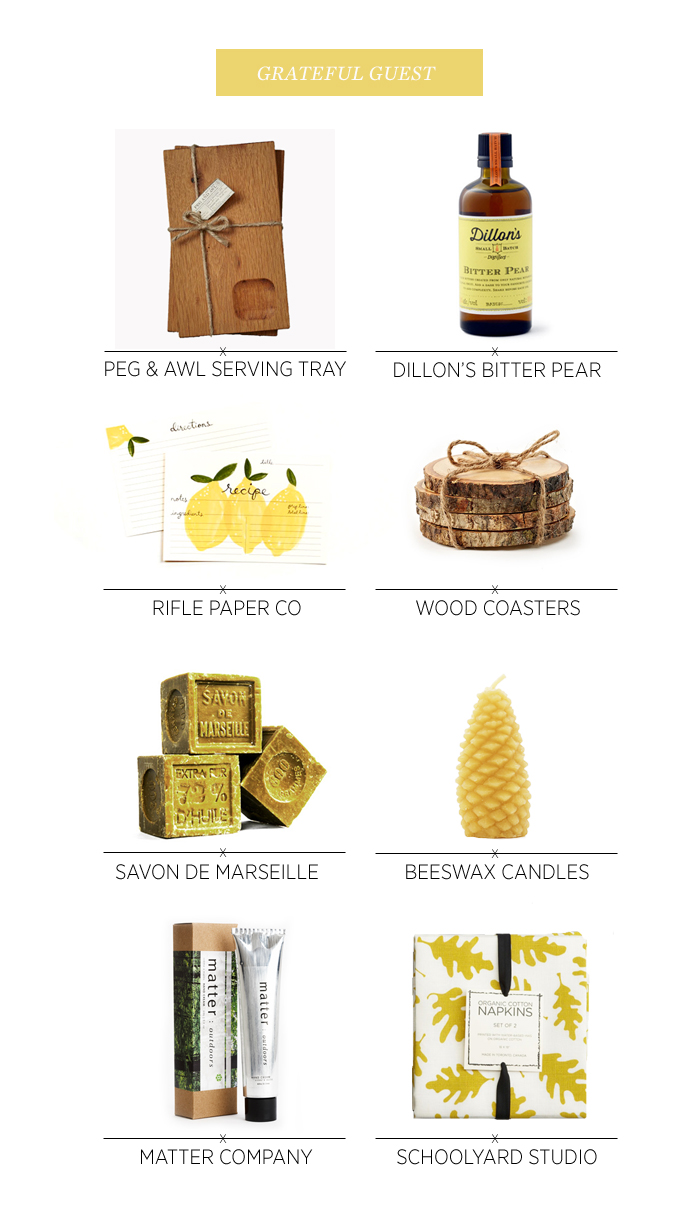 During the holidays you may be lucky enough to spend the weekend with a friend or attend a holiday bash or two. It's nice to show some gratitude for the hospitality with a few easy gifts. I've selected a few practical yet pretty items that would be nice for anyone to receive. The key is that all items are useful, thus making them thoughtful and less likely to languish unused in a drawer somewhere. As with my stocking treats earlier this week, you should definitely substitute these gifts for options available locally near you.
1. Peg & Awl Serving Tray - little serving boards are a nice thing to have! They can be reused, unlike paper napkins or plates, and I love that these have a handy spot for dipping sauces.
2. Dillon's Pear Bitters - there's nothing like spreading a little holiday cheer with some signature cocktails. Pair up a gift such as this with a recipe for something yummy.
3. Recipe Cards - these ones printed on recycled paper from Rifle Paper Co are lovely, and you can never have enough recipe cards. You could even write your favourite Christmas cookie recipe on one for a personal touch.
4. Recycled Wood Coasters - you can find one's like these from Woods of Narnia, or get someone handy to make some for you! Make a whole bunch so you have them on hand to give in the future as well.
5. Savon de Marseille - this famous olive oil soap is lovely to have. Used for years for laundering everything in the home, I love this soap for spot cleaning stains on linens or quickly cleaning party mishaps.
6. Beeswax Candles - you can never have enough candles over the holidays so these will be well-received every time. Beeswax burns much cleaner, are non-toxic and have a really pleasant, soft aroma. You should be able to find them at your local health food market - these pinecones add a nice festive touch.
7. Hand Creme - Matter Company from Toronto produces a good one and I love their minimalist look. Nice packaging is a definite bonus as a special treat! Whichever creme you choose, make sure to read the ingredients - be sure it's free of parabens, artificial fragrances and pthalates (there are many nasty chemicals to avoid, but these are particularly yucky).
8. Cloth Napkins - encourage skipping paper napkins and opting for the reusable cloth version. Not only is it more luxe, it adds a nice pop of colour to the table. These organic ones are from Schoolyard Studio in Toronto.
Comments
There are currently no comments
bringing you the latest, the unique and,
most importantly, the green.